New MacBook Air Owners Complaining of Wi-Fi Issues
Gizmodo reports on a growing number of complaints from owners of Apple's newly updated MacBook Air regarding Wi-Fi performance issues. The issues are being documented in Apple's support forums and a few users in our own forums have also seen similar problems.
The problems they're seeing sound eerily similar to those we're experiencing with our machines: Wi-Fi will initially connect, but after a minute or two the connection will stop working, and a total reboot is needed to be able to connect again. [...]

An anonymous source at one of Apple's retail stores in London has also told me they've had "well above average" complaints and returns (in a few cases) of Airs owing to Wi-Fi issues.
It is not uncommon for users to raise issues following the launch of new hardware as they put machines through their paces and discover differences in their behavior. Some of these issues are more significant and widespread than others, however, and Apple generally addresses many of the most significant ones with subsequent software or firmware updates.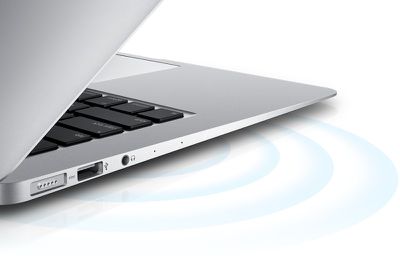 Apple's new MacBook Air adopts the latest 802.11ac Wi-Fi standard, offering faster connectivity and bandwidth. Apple's new AirPort Extreme base stations also offer better signal strength by taking advantage of beamforming to focus their Wi-Fi signals toward connected 802.11ac devices such as the new MacBook Air.