BMW has announced that Siri "Eyes Free" mode will be coming to all of its 2014 models in a new update to its ConnectedDrive Internet service, allowing iPhone users to interact with Siri in their BMWs without looking at their devices.
With the latest update to BMW iDrive, both Apple Siri and Samsung SVoice can be accessed through the vehicle's voice command controls. With a paired device, pressing and holding the steering wheel voice command button will engage the device's voice access. Pressing the steering wheel voice button without holding it will continue to access the vehicle's voice command functions.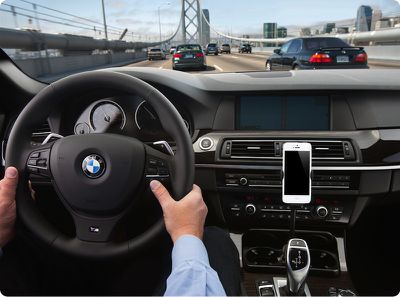 Previously, BMW had announced iOS app partnerships with Audible, TuneIn, Rhapsody and more. Last June, Apple announced that it was working on a new "Eyes Free" mode for Siri with car manufacturers. When it was announced at WWDC last year, Scott Forstall displayed a slide showing that Apple was working with BMW, Mercedes, GM, Land Rover, Jaguar, Audi, Toyota, Chrysler and Honda on the initiative.
Last November, Chevy announced that it was bringing "Eyes Free" mode to some of its car models while earlier this year Honda and Acura announced that it was coming to some of their models as well. Unlike those manufacturers, BMW is bringing "Eyes Free" mode to all of its 2014 car models and beyond.