Intel introduced a 128GB Thunderbolt thumb drive at the Computex trade show in Taipei today, reports PCWorld. The drive, which Intel is calling the "world's fastest thumb drive," is similar in size to a standard flash drive and does not require an expensive Thunderbolt cable to connect to a Mac or PC.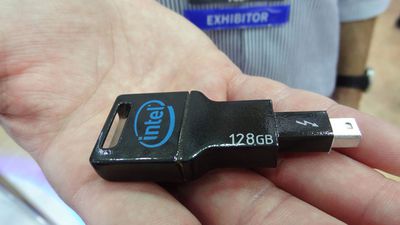 This is one of the first thumb drives demonstrated using Thunderbolt connectivity, which is the fastest technology available to transfer data between computers and peripherals, said Oren Huber, a Thunderbolt engineer at Intel Israel.

Thunderbolt can transfer data at a speed of 10Gbps, which is faster than USB 3.0 and USB 2.0. Right now USB 3.0 is about half the speed of Thunderbolt.
Intel's thumb drive uses a SanDisk SSD for storage, though that may change if the product goes into production. At this point, the thumb drive is just a prototype, with no potential price point provided.
Given the high prices and limited adoption of Thunderbolt, it may be quite some time before a consumer version of the Thunderbolt thumb drive is available for purchase. Earlier this week, Intel officially announced the next iteration of Thunderbolt, Thunderbolt 2, which will begin production in late 2013.