Image of 'Flat' Redesign From Early iOS 7 Build Reportedly Leaks
It's been reported for several months that Jony Ive is overseeing a redesign of the user interface in iOS 7, removing signs of skeuomorphism and gloss in favor of a 'flat design'.
iDownloadBlog has posted what may be the new home screen in iOS 7. While the authenticity of poor-quality photo can not be confirmed, 9to5Mac seems to believe that it is likely legitimate but of an early iOS 7 alpha. The site tweeted its own version of the same image, claiming that "things have changed a lot since this was taken".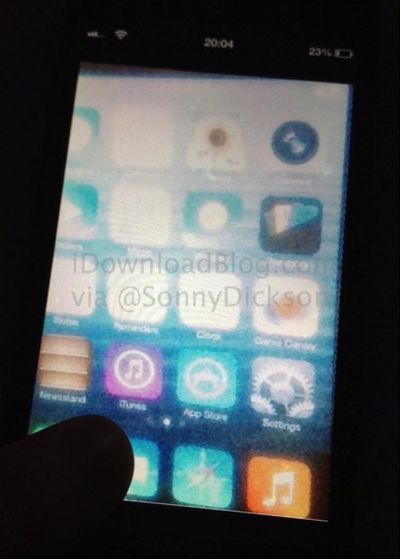 When you look at the current state of stock apps icons, it seems that all of them were designed by different teams. Most of them have a different look. They don't have unified features that tie them all up together. Some of them have a gloss effect. Some of them don't. Some of them have borders. Some of them don't, etc…

From what we've seen, we believe Jony Ive's touch on iOS 7 will homogenize the look of Apple's stock apps icons.
As with many things Apple does, the WWDC iOS app released earlier today is being closely examined for changes. TechCrunch noted that the app is 'flatter' than past versions.
What started out with textures meant to mimic 3D effects, more use of contrasting colors and shaded buttons, has now become a much flatter design. The changes are mostly subtle, but from what we've heard recently, that's what's in store for iOS 7, too; sweeping, system-wide changes, but ones that tweak the interfaces rather than overhaul them completely.
The new iOS 7 is expected to be unveiled at Apple's Worldwide Developers Conference next week.