One of the key features of Mac OS X 10.4 Tiger, launched in April 2005, was the addition of Dashboard Widgets, miniature apps with specific functions that could exist side by side on a dedicated screen accessible at the touch of a key. The feature spawned a market for third-party widgets, leading Apple to launch a dedicated page where it has hosted widgets for download and provided an easily browsable directory for users.
Widgets have, however, fallen out of fashion with Mac users, and the Dashboard itself has been reduced in prominence as Apple has emphasized other quick-access features like Mission Control, Launchpad, and Notification Center. Apple stopped accepting new submissions to its Dashboard Widgets site in early 2011, but the directory of roughly 4,000 widgets has remained available to users.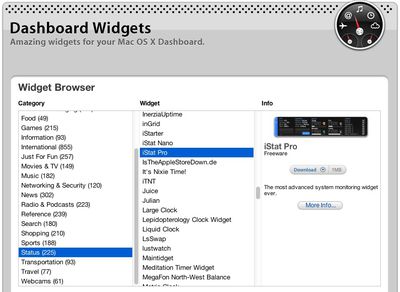 As noted by a MacRumors tipster today, the Dashboard Widgets site is currently broken, with all download links simply redirecting users to the main Apple downloads page rather than initiating a download of the desired widget. Based on a pair of discussion threads in Apple's forums, the download functionality seems to have broken within the past couple of weeks.
It is unclear at this time whether this is simply a technical glitch or if Apple is discontinuing its Dashboard Widgets directory. Apple is still promoting the Dashboard Widgets section on its main downloads page, and the directory itself is functional with the exception of the downloads themselves. A similar issue seems to have occurred in June 2012, although it is unclear how long the outage lasted.
Apple is expected to show off OS X 10.9 at next month's Worldwide Developers Conference, but it is unknown if the company is planning any significant changes to the Dashboard functionality in the release.
(Thanks, Ben!)