Charity Auction Bids for Coffee With Tim Cook Pass $500,000
With a flurry of activity today, bidding on the charity auction for a coffee meeting with Tim Cook at Apple's headquarters has passed $500,000, nearly doubling the previous record for a CharityBuzz "experience" auction set last year when a bidder paid $255,000 to spend a day with Bill Clinton.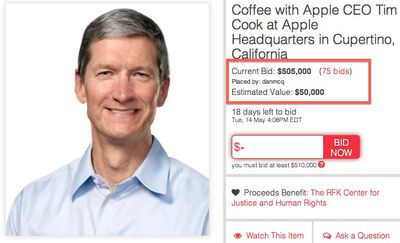 The bid list seems to be a combination of serious bidders and those likely simply seeking visibility for their names or brands and relying on the fact that there are 18 days left to bid to hope that they won't actually win the auction. CharityBuzz notes in its FAQ that all bids are legally binding and can not be retracted.
Can I retract a bid?

No, and we're pretty strict about this. Here's the legalese: All bids placed on the Charitybuzz website are legally binding. If you are the successful bidder, you will enter into a legal contract to purchase the item and will be considered the buyer of the lot. Please consider your bids carefully before placing them.
The auction for coffee with Cook, which is part of a group of roughly 100 celebrity auctions supporting the RFK Center for Justice & Human Rights, will see the winner and a guest travel at their own expense to Apple headquarters to meet with Cook for 30-60 minutes over coffee on a mutually agreed upon date.