AT&T to Discontinue 'Facebook Phone' HTC First?
AT&T is planning to discontinue the HTC First, better known as the "Facebook Phone," reports BGR. Released on April 12, the HTC First was touted as the first device to come with Facebook Home preinstalled, a feature that has not enticed buyers to purchase the phone.
Our source at AT&T has confirmed that the HTC First, which is the first smartphone to ship with Facebook Home pre-installed, will soon be discontinued and unsold inventory will be returned to HTC. How much unsold inventory is there? We don't have an exact figure, but things aren't looking good. According to our source, AT&T sold fewer than 15,000 units nationwide through last week when the phone's price was slashed to $0.99.
When contacted, an AT&T spokesperson gave MacRumors the following statement in regards to BGR's report: "As mentioned previously, we do pricing promotions all the time and have made no decisions on future plans."
The Facebook Home software, which can be installed on a number of Android devices, has also proven to be unpopular with Android users. The app has a two star rating in the Google Play store and has seen just a million downloads since it was released last month.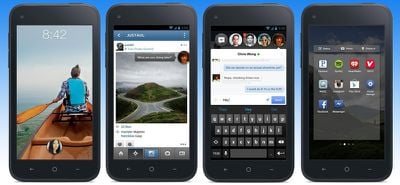 Facebook is hoping to drive additional downloads with an upcoming software update, which was demoed last week at a small press event. The upgrades are intended to make Facebook Home less intrusive, reports the LA Times, namely by making apps easier to find with a quick access dock at the bottom of the home screen.
The upgrades were designed to address the chief complaint from users: that Facebook takes over the phone at the expense of every other app on it.

Facebook's director of product, Adam Mosseri, said Chat Heads -– little bubble pictures of friends -– have proved popular but users have complained it's tough to initiate a conversation. He showed off a new feature that will let users more easily access a buddy list from Home.
According to Engadget, a large portion of Facebook Home's installs can be attributed to early adopters. At the aforementioned press event, Facebook execs declined to reveal how many active Facebook Home users exist, but did reveal that Home encouraged users to spend 25% more time on Facebook.
Facebook has brought limited Home functionality to iOS with the introduction of Chat Heads into its iOS app, and has talked to Apple about the possibility of bringing additional Facebook Home features to the iPhone in the future.