AT&T Launches New Aio Wireless Prepaid Brand, iPhone Plans Start at $55/Month
Aio Wireless, a new prepaid cellular brand from AT&T, today announced that it has launched operations in Houston, Orlando, and Tampa, with additional cities coming over the next year. The brand offers customers access to increasingly popular prepaid cellular services alongside popular devices including the iPhone.
"We talked with no-annual-contract customers and created our service around what they want. They want simple, easy plan choices with unlimited offers; first-class service at affordable prices; great devices; nationwide voice and data coverage; and no annual contracts. Today's wireless customers don't want to compromise," said Jennifer Van Buskirk , president of Aio Wireless. "We are set up to win over value-conscious customers who are increasingly moving towards smartphones and mobile broadband."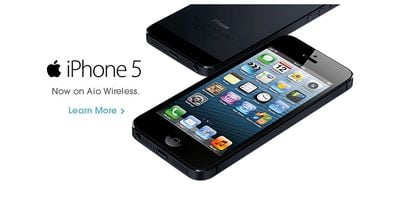 Aio offers two no-contract plans for smartphone customers, with the carrier's "Aio Smart" plan priced at $55/month offering unlimited talk, text, and data, with a 2 GB soft cap on high-speed data. An "Aio Pro" tier priced at $70/month increases the data soft cap to 7 GB. Aio offers the iPhone 5, 4S, and 4, with devices carrying full unsubsidized prices that see the iPhone 5 start at $650.
As noted by GigaOM, Aio mentions in its press release that the carrier offers "4G download speeds of up to 4Mbs per second", indicating that LTE is not currently supported with high-speed data limited to HSPA+ networks.