AppShopper Returns to the App Store With 'AppShopper Social' for iOS
Back in September 2010, our sister site AppShopper launched a dedicated iOS app offering users easy access to app-tracking features such as updates and price changes. But after two years on the App Store, Apple removed AppShopper in late 2012, citing a rule against apps that could be confused with Apple's own App Store app.
Apps that display Apps other than your own for purchase or promotion in a manner similar to or confusing with the App Store will be rejected.
Since that time, several other developers such as AppGratis have seen their apps removed from the App Store, reportedly as part of a broader crackdown on app discovery apps.
Over the past several months, the AppShopper team has been reworking the app to add a more social component, and that effort is now showing up with today's launch of a brand-new app, AppShopper Social.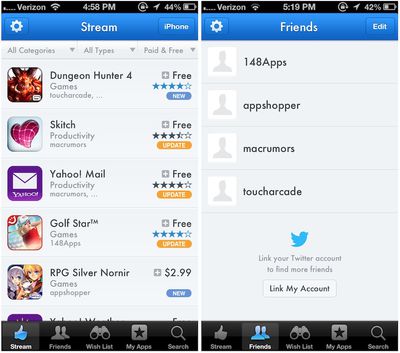 The Next Web has more on the return of AppShopper:
The new app, called App Shopper Social, makes social recommendations indispensable, rather than optional. When you launch the app, in fact, there is no list of apps waiting for you. Instead, the app recommends that you follow the App Shopper account, which is one of several curated lists ready at launch. Others include Macrumors, 148apps and Toucharcade, all of which provide a steady stream of apps that can be 'owned' or 'want listed'. Each of the apps has a rating from one or more of those feeds, as well as an App Store rating. This allows users to say, get a friend's rating, Toucharcade's rating and the App Store rating all side-by-side.


A blog post at AppShopper notes that this 1.0 version of AppShopper Social brings back much of the core functionality of the original AppShopper app but that a number of features such as native iPad support and Top 200 lists are not included. Those features will be brought back in future updates.
In the 1.0 version, we're aware that there are several obvious features that are absent. Top on our priority list is the ability to browse friends' lists individually by tapping on their name. Also, an easier method for friend discovery and friend recommendation are also something that is clearly necessary. Even without these features, AppShopper Social is an incredibly useful tool for App Discovery, but there's a lot of potential to be even better.

We lost a lot of momentum with the removal of our App Store app, so we'd ask you to spread the word on AppShopper Social. A large user base will guarantee future updates and improvements.
AppShopper Social is available now as a free download in the App Store. [Direct Link]