Twitter Launches New Music App for iOS and Web
Following rumors of a new music app for iOS from Twitter last month, the company today announced the public release of the new service. The app, which is available as a free App Store download and rolling out on the web, integrates a number of existing services to give users each access to their Rdio and Spotify subscriptions, as well as previews of iTunes Store content.
The songs on Twitter #music currently come from three sources: iTunes, Spotify or Rdio. By default, you will hear previews from iTunes when exploring music in the app. Subscribers to Rdio and Spotify can log in to their accounts to enjoy full tracks that are available in those respective catalogs. We will continue to explore and add other music service providers.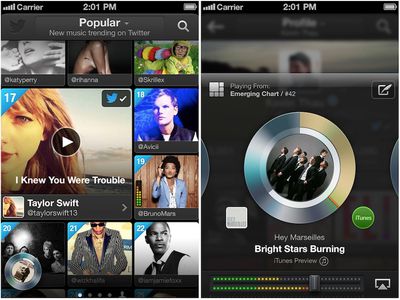 Twitter #music is unsurprisingly based around existing Twitter services, taking advantage of Twitter trends to detect popular and emerging artists and songs and leveraging users' own follow lists and those of artists to recommend new music. ABC News has more on how the app works:
The Popular page shows you new music that's trending across Twitter while the Emerging tab shows "hidden talent found in tweets." While those two parts feed you information about what the collective Twitterverse is jamming to, the last two focus on who you follow and your personal music taste.

The Suggested tab shows artists you might like based on the artists you follow on the service and who they follow. And finally the #NowPlaying tab shows songs your friends are listening to or tweeting about. For instance, if your friend tweets that they are listening to a song by Justin Bieber, that song will show up on that page.
Twitter #music is available now in the App Store with support for users in the US, Canada, the UK, Ireland, Australia and New Zealand. [Direct Link]