Apple Hiring Chip Engineers for 'Orlando Design Center'
As noted by AppleInsider, over the past month Apple has posted listings for eight jobs related primarily to hardware engineering in Orlando, Florida. The listings come as Apple is also hiring at its "Melbourne Design Center" that is apparently part of its acquisition of fingerprint sensor firm AuthenTec, but these new positions located roughly an hour away from Melbourne appear to be part of a separate initiative.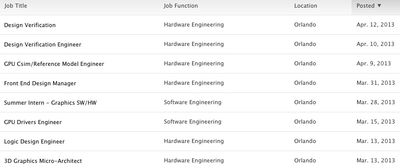 A number of the advertised positions relate to graphics chips and drivers, and it is possible that Apple may be working with AMD, which has an R&D and design facility in Orlando, in some capacity. Alternatively, Apple could be drawing on expertise at Qualcomm, which also has facilities in the area. In one job listing for a summer internship, Apple refers to the location as its "Orlando Design Center".
It appears that Apple has had at least a minor presence in Orlando for some time, but the recent job listings suggest that the company is undertaking a significant expansion of its team there.