Apple hasn't sold a notebook docking solution since the Duo Dock for the PowerBook Duo. However, a new campaign on Kickstarter has designed a new dock that can be used with any current MacBook Pro model, including the new Retina units.
The ZenDock connects to the Thunderbolt, USB, Gigabit Ethernet, and FireWire ports, while leaving a clever gap for the MagSafe power adapter to slide through. A single cable connects to a mountable base equipped for desktop accessories to be permanently connected to.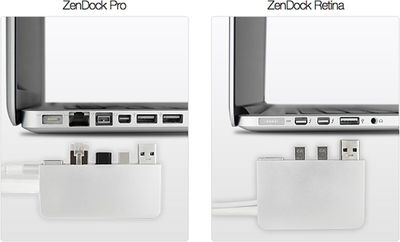 Our team of 4 has been developing ZenDock for just a year. About 4 months ago we tested the concept and the response was overwhelming and so we dove head first into creating our vision. We set out to build ZenDock with 2 design principles in mind. First was to build an elegant solution that would seamlessly integrate with your MacBook. Second was to build a device that just works, yet doesn't get in your way. Both versions always leave at least one USB, SD and headphone port accessible right on your Macbook, while allowing more permanent devices to be connected to the base. The ZenDock is CNC milled from solid blocks of ultra high quality T6061 aluminum, bead blasted and anodized to beautifully match your MacBook.
The ZenDock is available to Kickstarter backers starting at $109 for a limited early-bird backing price, though the company expects to sell the dock for $179 when it hits retail shelves. ZenDock expects to ship to backers in October of this year.
There are a number of Thunderbolt docks on the market that perform a similar function, but they are significantly more expensive -- though they do provide much more functionality. Sonnet has announced a dock with an internal drive bay and optical drive starting at $400, while Matrox and Belkin have announced their own Thunderbolt docking stations.