Matrox Launches DS1 Thunderbolt Docking Station for $249
For over a year, third-party manufacturers have been showing off prototypes and making announcements regarding Thunderbolt docking stations, accessories that would allow users to connect a variety of peripherals to a hub that would then connect to their Mac with a single Thunderbolt cable. Apple offers such functionality as part of its $999 Apple Thunderbolt Display, but many users have been looking for similar hub functionality that does not require also purchasing a large display.
Matrox is one of the manufacturers that has been working on a Thunderbolt docking stations, having announced its $249 DS1 hub back in June. At the time, the product was scheduled to launch in September of this year, but the company later pushed back the launch to December as it decided to roll out separate models for DVI and HDMI monitor compatibility.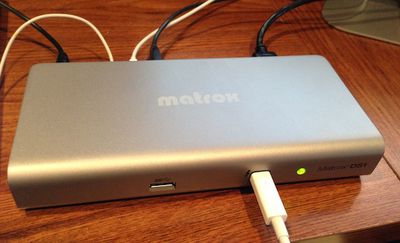 Matrox will be announcing tomorrow that the DS1 docking station is now available for sale in the Americas at a price of $249, with worldwide availability set for next month. The DS1 contains a Gigabit Ethernet port, two USB 2.0 ports, audio in/out jacks and either an HDMI or DVI port on the rear of the device, with a combination USB 3.0/2.0 port and the Thunderbolt port for connection to the user's machine on the front.
We chatted a bit with product manager Charles Amyot about the development of DS1, in particular asking why it has taken over a year and a half to bring a Thunderbolt docking station to market. The issue is not unique to Matrox, as Belkin and other manufacturers have also been working to launch their products but have yet to begin shipping.
Amyot noted that there were a number of hurdles that needed to be overcome throughout the development process, due in large part to Thunderbolt being a new standard with little in the way of support available yet. Matrox worked closely with both Apple and Intel on the development of the DS1, but ensuring a good user experience with proper drivers and other features of the device turned out to be a time-consuming process. Amyot also noted that Matrox is the first company to deliver USB 3.0 connectivity over Thunderbolt, a step that required a significant amount of work.


Thunderbolt remains in its infancy, and many users have been frustrated with what feels like a slow pace of adoption. Until recently, Thunderbolt accessories have primarily been limited to expensive professional devices such as RAID storage arrays and PCI Expansion expansion chassis. Only in recent months have consumer-level products begun integrating Thunderbolt on a widespread basis, but even then many of them such as hard drives can only make maximum use of Thunderbolt when equipped with expensive solid-state storage.
Regardless, as Apple continues to slim down its Macs and eliminate such features as Ethernet ports, docking stations like the DS1 that offer a single-cable connection for a variety of peripherals are likely to become increasingly popular with users seeking simple expansion solutions.