Google Forking WebKit to Create New Web Rendering Engine for Chrome
Google announced today that the company is forking the WebKit rendering engine to create its own web rendering engine called 'Blink'. Google had been the using Apple-initiated WebKit project to power its Chrome web browser. Future versions, however, will now be based on this new system.
Google is now free to make changes to its rendering engine with less complexity and bureaucracy than when it was saving its changes to Webkit. The company posted this on its FAQ explaining why it wanted to create a new engine:

The main reason is that Chromium uses a different multi-process architecture than other WebKit-based browsers. So, over the years, supporting multiple architectures has led to increasing complexity for both the WebKit and Chromium communities, slowing down the collective pace of innovation.
With the change, Google has set Chrome and Apple's Safari on their own paths. Webkit was originally created by Apple as a fork to the KHTML rendering engine. Apple took interest in developing it when launching Safari for the Mac, and it now powers Safari for iOS, as well.
WebKit has been heavily adopted with over 20 companies now contributing to the project. Google and Apple, however, have remained the most active contributors to the open-source project.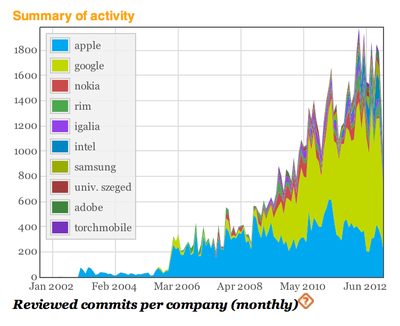 In fact, Google has been the most active contributor of WebKit in the recent years. This graph from Bitergia (above) shows Google's increasing number of "commits" to WebKit over the years. Google's efforts will now be directed at 'Blink'. Apple has made no public comments about the news.