Apple Faces Patent Lawsuit Over Siri in China
Shanghai Daily reports that Apple is facing a lawsuit in China over Siri, with a company there claiming that Siri infringes upon its patent rights.
The Shanghai No.1 Intermediate People's Court will hold a pre-hearing at 2pm today to let Apple and Shanghai Zhi Zhen Internet Technology Co Ltd exchange evidence. [...]

"Siri is very similar to Xiaoi, a chat robot system we have been developing since 2003," said Mei Li, a spokeswoman of Shanghai Zhi Zhen which filed the lawsuit.

Mei said her company applied for patent rights for Xiaoi in 2004 in China and the patent right went into effect in 2006.
While the Xiaoi bot began life as a chat bot for MSN and similar networks, it has since migrated to a number of platforms including Android and iOS, and has evolved to look quite similar to Siri, although the iOS version of the app [App Store] uses a different style for the microphone icon and button.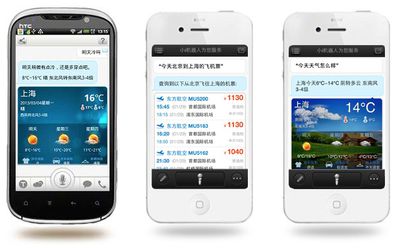 Android version of Xiaoi (left) vs. iOS version (center and right)
AFP reports
that Zhi Zhen, which has over 100 million users of Xiaoi, is seeking a halt to sales of infringing products, as well as reserving the right to seek compensation in the future.
"The company will ask Apple to stop manufacturing and selling products using its patent rights, once Apple's infringement is confirmed," Si Weijiang, a lawyer representing Zhizhen, told AFP.

"We don't exclude the possibility of demanding compensation in the future," he added.