Eric Schmidt on Google Now for iOS: 'You'll Need to Discuss That With Apple' [Updated]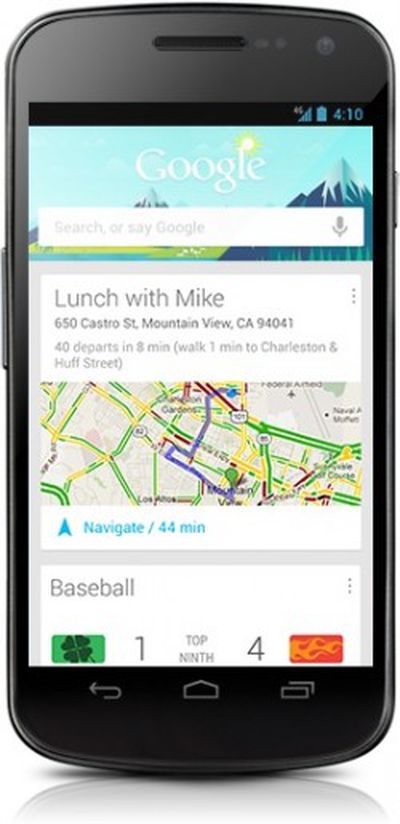 Last week, Google apparently accidentally leaked a promotional video revealing that its Google Now app will be coming to iOS. Google Now is currently an Android-only app designed to automatically integrate relevant bits of information such as weather, traffic, appointments, and more into users' lives. The video was quickly removed, but Google had not issued a statement on its appearance.
iPhone Hacks now points to a Tweet from Techmeme editor Mahendra Palsule noting that Google Chairman Eric Schmidt was asked about Google Now coming to iOS at the company's Big Tent event in India today. According to the report, Schmidt suggested that whether or not Google Now comes to the App Store is currently up to Apple's reviewers. The exchange between Schmidt and The Guardian editor Alan Rusbridger appears nearly 18 minutes into the interview (via TechCrunch):
Q: When can I get Google Now on my iPhone?

A: On your iPhone? You'll need to discuss that with Apple. Apple has a policy of approving or disapproving apps that are submitted into its store, and some of the apps we make they approve and some of them they don't. They recently did approve Google Maps, thank goodness. [laughter] And without being too obnoxious, you have excellent vendors of Android choices for you in London, from many different suppliers.

Q: So, has Apple got a problem with Google Now?

A: That was an ambiguous statement. Does Apple have a problem with Google, or Google Now? [laughter]

Q: Sorry...Google Now. Capital letter.

A: Let me not talk about the specifics. I don't think they're particularly worried about Google Now.
Apple and Google obviously have had a contentious relationship as competition between iOS and Android has intensified in recent years. While Apple has generally approved Google's apps submitted to the App Store, there have in some cases been significant delays, as seen with Google Voice remaining in limbo for over a year before finally receiving approval.
Update 11:27 AM: Apple has informed CNET that Google has not submitted an iOS version of Google Now to the App Store for review.
Update 3:00 PM: Google has admitted to CNET that it has "not submitted Google Now to Apple's App Store."