Apple's Retina MacBook Pro and MacBook Airs from 2012 on incorporate the thinner MagSafe 2 power port, requiring the use of a small MagSafe to MagSafe 2 Converter in order to use the computers with older power adapters.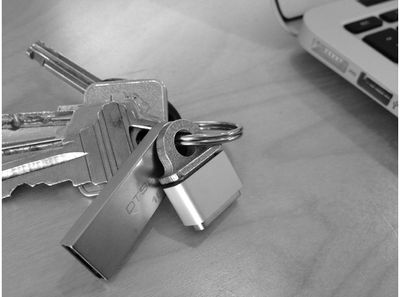 The MagSafe Adapter Key Ring is designed to prevent the loss of the MagSafe Converter by connecting it to a set of keys. Printed from stainless steel, the Key Ring attaches to the Converter using its internal magnet. We asked the creator, Jonathan Bobrow, about the strength of the magnetic hold:
It holds very well. I have been wearing it on my exposed keychain (carabiner) around NYC through crowds and subways and have not had an issue. The magnet is shockingly strong and really relies on the torque of the cable to get loose (i.e if you pull the cable straight, you can still knock your laptop to the ground).
The MagSafe Adapter Key Ring is available from Shapeways and is priced at $15.00.