John Sculley, Apple's CEO from 1983 to 1993 and the man famously responsible for Steve Jobs leaving the company in 1985 to form NeXT, has said that although he considers Apple to be experiencing a "lull in innovation", he thinks this is an industry-wide issue and that Apple will be the first to spot the next big trend.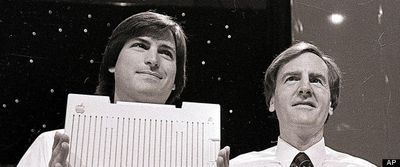 Interviewed in the Huffington Post, Sculley was asked about his comments in a CNBC interview last month when he said he "wouldn't expect to see a creative leap from Apple for maybe a few years."
I don't think that it's because Apple has lost its ability to innovate. My guess is that it has nothing to do with Apple at all, but with the current stage of technology.

Moore's law has been completely predictable for 40 years. You really need about a generation between each of [the] big innovations [but] there are just moments when all the stars are aligned for breakthrough products. Steve had a tremendous talent to be able to spot those ahead of everyone. The question is, who is going be the one to spot the next big trend, the alignment of stars? I'd bet my money on Jony Ive being the person to spot that.
Sculley downplayed talk of an Apple HD TV set but fueled speculation on a possible iWatch.
If [Steve Jobs] were alive today, I suspect he'd be really fascinated about what's happening with sensors. When you look at the ability to capture all kinds of information with sensors and then customize services back to individuals, that is so Steve Jobs. That's the kind of thing he'd have salivated over.

I think the next big area of product [innovation] is probably not around a television, as many are speculating -- actually, Apple TV is pretty good right now. I think it will be around wearable sensor-type products.
Steve Jobs hired Sculley from Pepsi in 1983, but the two clashed over management styles and priorities, Jobs focusing on future innovation and Sculley more on current product lines and profitability. A showdown between the two resulted in Jobs leaving Apple to form NeXT, which Apple acquired in 1996, bringing Jobs back into the company three years after Sculley left.
(Thanks, Arthur.)