Apple Now Offering iMacs Equipped With VESA Mount Adapters as $40 Upgrade
As noticed by Macworld UK, Apple today introduced a new configuration option for its 21.5-inch and 27-inch iMacs, allowing customers to choose a VESA mount adapter instead of the standard foot. The $40 option allows users to mount their iMacs to walls or other vertical surfaces, but must be configured at the time of purchase.
The iMac with Built-in VESA Mount Adapter is ready to pair with your favorite VESA-compatible wall mount, desk mount, or articulating arm (sold separately). This iMac doesn't include a stand, so a mount is required. If you don't already have a mount, you can purchase one when you configure your iMac.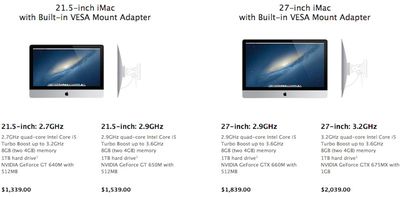 Apple is currently quoting shipping estimates of 7-10 business days for VESA-equipped iMacs, compared to immediate availability for standard models.