Staples Associates Training to Support iPhone, iPad, and Mac Notebook Sales by Late March
Back in January, we noted that office supply chain Staples appeared to gearing up to begin selling Apple products in its U.S. stores for the first time. Staples employees confirmed the announcement several weeks later and late last month the company began selling Apple accessories in its U.S. online store.
Apple accessories have already been making their way to some brick-and-mortar Staples stores, with our sources indicating that at least some locations will also be selling a broader range of products, including Macs, iPads, and iPhones.
One source has now shared screenshots of training materials for Staples sales associates, revealing training modules addressing not only the Apple TV currently being offered Staples but also Mac notebooks, iPhones, and iPads. It is unclear if Mac desktops are not going to be carried by Staples or if perhaps those offerings will be limited to certain locations.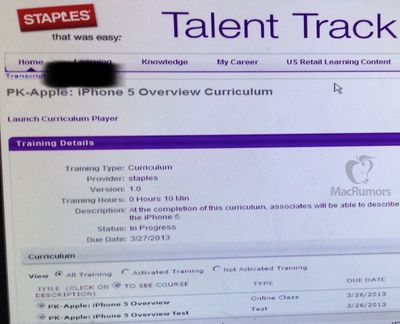 Staples' curriculum description for iPhone 5 training reads:
At the end of this curriculum, associates will be able to describe key features of the Apple iPhone 5, and suggest attachments that compliment the iPhone 5.
Notably, all of the training modules addressing Apple products carry completion due dates of March 26 or 27, suggesting that the rollout of those products to Staples stores is likely to occur very soon after.


Staples operates over 1,500 retail stores in the United States, marking a significant expansion of Apple's distribution chain. The new outlet also offers an appealing channel for businesses that may already have billing accounts and other existing relationships with Staples for their office supply needs.