Apple Stock Jumps on Rumors of Stock Split at Tomorrow's Shareholder Meeting
Hedge fund manager Doug Kass tweeted (via 9to5Mac) a short time ago that he is hearing rumors of an announcement regarding a stock split coming at Apple's shareholder meeting scheduled for tomorrow at the company's headquarters in Cupertino, California. The stock has reversed course since Kass's Tweet, moving from down $5 to up $5.
Many observers, such as Fortune's Philip Elmer-Dewitt, are calling into question Kass's statements, noting the sequence of events that saw him announce a large position in Apple, float the rumor of a stock split, and then announce that he was selling off shares after the stock spiked. Kass has, however, defended his Tweet, saying that the rumors were "all over the Street".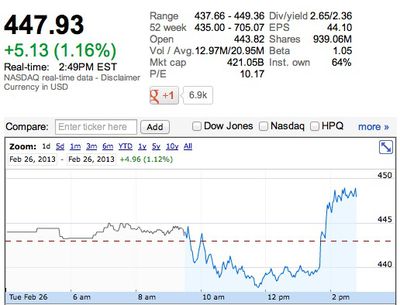 While a stock split would not add any intrinsic value to Apple's market value, some have viewed a potential split as a positive for Apple under the perception that a company is more likely to split when it is confident that the stock price will rise in the future. Observers have also argued that high stock prices for companies like Apple and Google have kept them from being added to the Dow Jones Industrial Average given the outsized impact they would have on the price-weighted index.
Apple's last stock split came in February 2005, a 2-for-1 move that brought the price of a single share down to just under $45. Apple has refrained from splitting its stock since that time, with investors seeing the share price rise to over $700 before pulling back to the current level around $450.