Google Launches Google Drive Cloud Storage Service
Google today announced its long-awaited Google Drive cloud storage service, providing users with 5GB of free storage integrated with Google Docs and other Google services.
Today, we're introducing Google Drive—a place where you can create, share, collaborate, and keep all of your stuff. Whether you're working with a friend on a joint research project, planning a wedding with your fiancé or tracking a budget with roommates, you can do it in Drive. You can upload and access all of your files, including videos, photos, Google Docs, PDFs and beyond.
Beyond the free 5GB level, Google offers several levels of paid storage up to 16 TB, all accessible via Google Docs or through clients for PC, Mac, Android and iOS devices -- though the iOS app has yet to be released, Google promises it is "coming soon". One of the biggest features in Drive is the ability to open more than 30 different file types directly in the browser, allowing users without programs like Illustrator and Photoshop to open up files and see what's inside. The service includes extensive sharing and collaboration features, as well.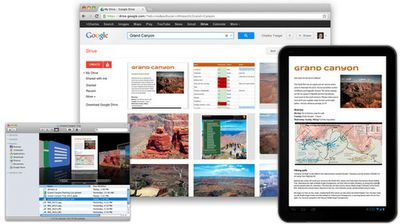 The launch of Google Drive comes as several other cloud storage services have augmented their services in recent days. Microsoft's SkyDrive, which offers users 7GB of free cloud storage, yesterday updated its offering with an updated iOS app [Direct Link] and a preview client for OS X Lion, which allows users to manage their SkyDrive accounts directly from the Finder. Finally, Dropbox extended its file storage service with the ability to quickly share files stored on Dropbox with anyone, simply by creating a link.