Apple Patents Nearly Invisible 'Microslot Antennas' Allowing for Smaller Devices
Apple has been awarded a patent (via AppleInsider) for 'microslot antenna' technology, which could enable 'invisible' radio antennas to be embedded into the housing of a Mac, iPhone or iPad to save space inside and allow for more compact devices.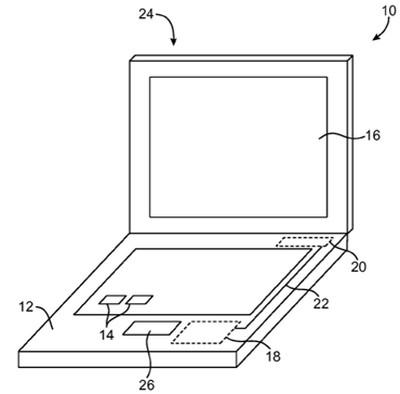 Notebook computer with integrated wireless antenna (20) on device housing
The antennas would use microscopic slots in the housing, with widths of just a few microns, making them almost invisible to the naked eye. The patent shows a variety of possible locations for the antennas on a laptop, though the same approach would likely be taken with iPhones and iPads also.

Top view of microslot antenna design supporting multiple frequencies
Current devices may contain antennas for GSM, 3G/LTE, GPS, wifi and Bluetooth, though some of these may be combined. The iPhone 5, for example, uses just two antennas for the five functions, using rapid frequency switching to enable one antenna to do two jobs. Eliminating the need for internal antenna space altogether would, though, allow for slimmer and smaller devices.
As TechCrunch observes, this could also create the possibility of an all-aluminum case. Apple has previously had to have a small area of glass or plastic to provide radio windows for the internal antennas. Microslot antennas would eliminate this need, perhaps leading to more Mac-like iPhones and iPads in future.
Apple's interest in the possibility of implementing microslot antennas dates back to at least 2007 when the patent was filed, meaning that the concept may be requiring significant refinement before arriving in a shipping product or may have been scrapped entirely by this point. Still, it is clear that Apple is continuing to look for ways to handle the increasing complexity of wireless communications while maintaining its design goals for size and aesthetics.