Apple Acquires 18 'Axis-Based User Interface' Patents from Maya-Systems
Canadian firm Maya-Systems today announced that it has sold a group of 18 user interface patents to Apple. The patents appear to be related to Maya-Systems' work with axis-based interfaces in which documents and other files can be automatically grouped into timelines based on tags or other attributes and made accessible via the cloud.
Maya-Systems' technology offers an intuitive way to display any virtual content in a superior manner. This transaction attests that Maya-Systems axis-based user interface is ahead of the growing demand for axis-based user interfaces.

"We dealt with a significant number of sophisticated buyers," noted Mathieu Audet, founder of Maya-Systems and patent agent. "We are pleased to have secured the transaction with Apple." "Our patents have been analyzed thoroughly by many potential buyers. We are confident that they are strong assets."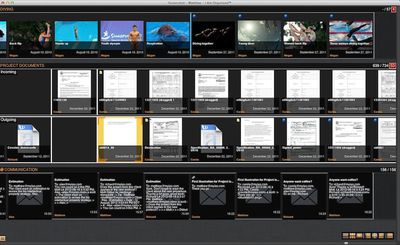 Maya-Systems' key product is I am Organized, a platform for organizing, viewing, and sharing files.
IamOrganized's uniquely distinctive, patented feature is its axes-based interface. Intuitive and elegant, axes herald a new era in content management. They show and manage content more meaningfully than ever.

Unlike folder trees based on file location, axes group files by subject (any attribute, really) and display them along a timeline.
Scroll an axis to view more files. Zoom in. Zoom out. Navigate swiftly between projects by displaying several axes on your screen.

Attribute-based, orderly and relational, axes give users a meaningful and integrated view of their files.
It is not entirely clear exactly what aspect of Maya-Systems' patent portfolio Apple was interested in controlling, but Apple has been making a significant push into cloud-based document and file storage and sharing, including such features Documents in the Cloud and Photo Stream.