RIM Launches Next-Generation BlackBerry Z10, Announces Corporate Rebranding
Research in Motion today announced its next-generation smartphone, the Z10. RIM also announced a corporate rebranding, officially changing the name of the company to BlackBerry.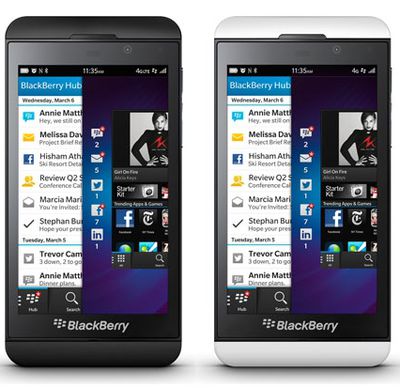 All four U.S. carriers are expected to carry the Z10, shipping in March and starting at $199 with a two-year contract. Walt Mossberg, reviewing the Z10 for the Wall Street Journal, notes that a physical keyboard-equipped Q10 model is due in April as well. He notes that in "moderate to heavy use", the battery didn't last as long as a charge on an iPhone 5 in similar usage, but he did have some praise for the device.
BlackBerry has always leaned heavily on its physical keyboard, and, according to Mossberg, the virtual keyboard on the Z10 shines as well:
The Z10 keyboard is the best and fastest out-of-the-box virtual keyboard I've used. Master BlackBerry thumb typists might not find it as fast as the traditional physical keyboard, but, for a one-finger typist like me, it was faster and more accurate than either the native keyboards on the iPhone or Android. This is partly because it features predictive typing. It displays words that are likely to come next right above the rows of letters, and lets you flick these words upward into the text you're composing. It learns what mistakes you typically make in hitting letters, and adjusts. And it learns words and abbreviations you frequently use, even proper names.
The company promises 70,000 apps at launch, including staples like Facebook, Twitter, Angry Birds, MLB, and more. Many notable apps are missing however, including Pandora, Spotify and Netflix.
The Z10 comes with a 4.2" 1280x768 display, giving it a higher pixel density than the iPhone 5; an 8 megapixel rear camera; 16GB capacity only, but includes a card slot for storage upgrades; available in white or black; a removable battery; and LTE support, though Mossberg got extremely poor data speeds on AT&T and RIM couldn't explain why.