A blog entry at Zero Hedge suggests that a deliberate share dump in the final second of trading may have been partly responsible for yet another drop in Apple's share price on Friday.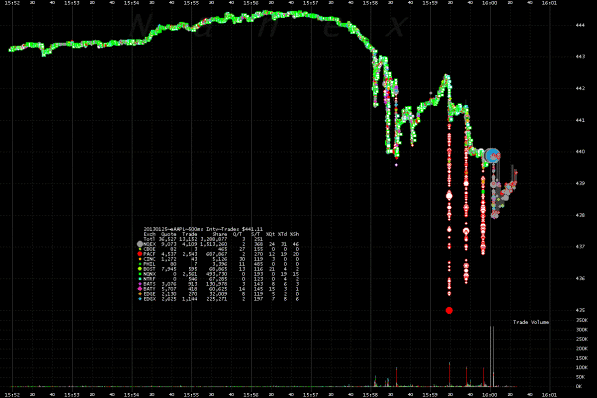 Zero Hedge cites several Nanex charts as evidence, observing that some 800,000 shares worth $350 million were traded in the final seconds of trading on Friday.
Unlike traditional flash crashes where the trade is an HFT [high-frequency trading] error, or a few shares traded through the entire bid or offer stack, in this case it looks like a very premeditated unloading of some 800K shares (some $350 million worth) of AAPL in the last second, with the full knowledge it [would] shake the market.
The move brought Apple's stock price down by approximately $5 in the waning seconds of the week's trading, where it sat throughout much of the after-hours trading period leading into the reopening of regular trading this morning. Apple's stock is down another $3.50 as trading opens today.