iPhone5mod continues to launch both unofficial Lightning accessories and other interesting products for iPhone owners, and the company today has announced its Translucent Mod Kit for the iPhone 5.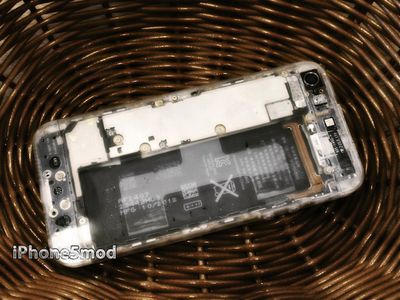 The kit includes an entire set of parts to turn an iPhone 5 translucent on the rear and sides, offering users willing to disassemble their devices a rather unique look. Due to high cost and complexities involving the LCD on the iPhone 5 display, the mod kit does not change the front of the device.


The set includes a translucent rear body panel, as well as translucent micro-SIM card slot, mute/power buttons and a translucent Lightning port. The rear body panel is available in seven different translucent colors: white, black, blue, green, yellow, red, and pink.
The kit also includes color-matched top and bottom antenna windows on the rear of the device. For the first 48 hours of availability, customers will receive all seven sets of top and bottom windows in the various colors, allowing users to mix and match as they see fit. After the limited time offer, users will have to select one color of top and bottom window panels for their orders.
Pricing is set at $39.90 for the entire kit, although customers interested in purchasing all seven color variations of the main back body panel can do so for a kit price of $169.