CES 2013: Lenovo 27" Tablet and Nectar Fuel Cell iPhone Charger
The Consumer Electronics Show can get a bad rap from bloggers and journalists who have become jaded by seeing the same products over and over. So, it can be particularly satisfying to see new classes of products that haven't quite hit the mainstream, even if there may be some practical limitations to their ultimate success.
Two of those type of products that I saw at this year's CES include Lenovo's 27" table-top tablet and Nectar Power's fuel cell charger.
Lenovo 27" Table PC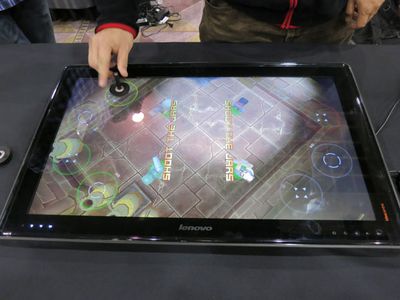 It seems absurd when you first hear about it -- a 27" Table PC from Lenovo -- essentially a 27" tablet that you place on your tabletop. It runs Windows 8 and can also stand up to be used as a more traditional computer.
It doesn't sound particularly practical, but standing in front of it at CES, I was intrigued. When we saw Jeff Han's first multi-touch demos in 2006 or Microsoft's Surface Table for $10,000, our first reaction was that these multi-touch tables were the future, and we wanted one for our house. Now, you will be able to get one for approximately $1699 this summer.
There are some practical issues with a device of this type. Lenovo had to add their own custom interface layer on top of Windows 8 to accommodate the flat-table multi-touch action. They've also partnered with a number of companies such as EA to provide table-top multi-touch versions of their games, so software selection to start will be limited.
Given the relatively high costs of ownership, it's hard to imagine that this will grow beyond a niche product. As a result, it's also hard to believe that Apple would be ever interested in pursuing this market themselves.
Still, I'm glad this product exist and will be curious to see how it evolves over time.
Nectar Power Fuel Cell Charger


It feels like fuel cell technology has been on the cusp for the past decade. We even reported back in 2003 that Apple was actively pursuing the technology for future PowerBook designs. Nine years later, and we haven't seen much in the way of practical fuel cell usage in our consumer electronics. Fuel cells promise a high density of energy using some form of replenishable fuel supply.
Lilliputian Systems is a 12 year old company that has been working on commercializing its fuel cell system. The company has raised over $100 million dollars over that time from investors. At CES, it has launched its first product called Nectar Power, which is available for pre-order at Brookstone.
Nectar Power is a fuel cell charger for your iPhone or any other USB-powered device. It comes in two parts: the charger itself and the disposable fuel pods filled with butane. Each pod provides your iPhone with 10 full recharges (55,000mW), which the company estimates could last you two weeks.

The initial cost for the charger itself is $299 and comes with an initial fuel pod. Replacement fuel pods cost $9.99 each.
That's where the numbers could get tricky. Despite the high energy density, the recurring cost of pod-replacements will make it hard to adopt it as your standard charging solution, while the high initial cost for the system will make it hard to buy to keep around just as a backup charging system. One notable advantage of the system, however, is that the Nectar Power system is said to retain its power far more effectively than a battery. An unattended Nectar would only be expected to lose about 10% of its charging ability over the course of year.
Overall, the product is fascinating and a taste of what's to come down the line as the product gets smaller/cheaper and expands into other devices.