18.5% of U.S. Mobile Phone Subscribers Now Using iPhones
comScore today released the results of its monthly rolling survey of U.S. mobile phone users for the September-November period, finding that 18.5% of U.S. mobile phone subscribers are now using an iPhone, up 1.4 percentage points from the June-August period. Samsung continues to lead the market at 26.9% on 1.2 percentage point growth, while the remainder of the top five vendors all lost share.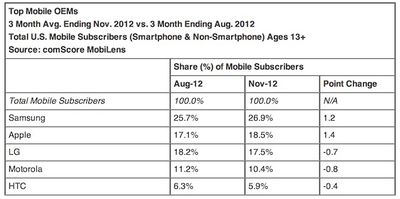 Apple overtook LG for the second spot in last month's survey, and solidified its lead in the latest data on continued growth paired with a small decline by LG.
In looking only at smartphones, which now account for 53% of the U.S. mobile market, Android has continued to expand its lead and now holds 53.7% of the market. The iPhone 5 launch has, however, allowed Apple to continue its growth and the company now holds 35% of the smartphone market as the fall of RIM and Microsoft have increasingly turned the smartphone market into a two-horse race.


Notably, comScore's data tracks installed user base rather than new handset sales, making it more reflective of real-world usage but slower to respond to shifting market trends than some other studies.