Apple Overtakes LG to Become No. 2 Mobile Phone Maker in U.S.
Apple captured the number two slot in all U.S. mobile phone makers, both smartphone and non-smartphone, for the first time, according to a new report by research firm comScore.
Samsung maintained their lead with 26.3% in overall mobile phone userbase, with Apple coming in second at 17.8% and LG .2 points behind in the number three slot with 17.6%. Apple gained 1.5% in the three month period starting in August 2012 and ending in October 2012, which includes the first full month of iPhone 5 availability. LG, Motorola and HTC all saw their share shrink by .8, .2 and .4% respectively. Back in April, Apple leapfrogged Motorola to become the No. 3 mobile phone maker.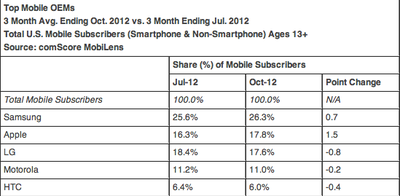 comScore's data tracks installed base rather than sales figures, so it reflects well on real-world usage rather than immediate market trends. Recently, Kantar Worldpanel released data based on sales figures that Apple had overtaken Android in marketshare with the help of iPhone 5 sales.