Listings for Holiday Games and Apps Appear on Apple TV, Undoubtedly in Error
As noted by Mac OS Ken, a new "Holiday" content section has appeared buried in the iTunes Store on the Apple TV. Interestingly, the section contains numerous banners advertising apps and games, which are of course not currently compatible with the Apple TV.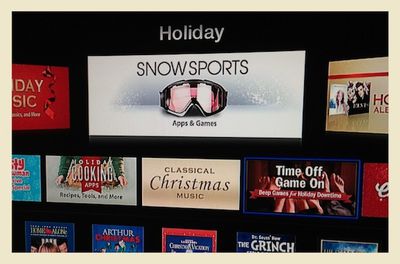 The new content sections are not functional, as no listings appear when the various banners are selected with the Apple TV remote. The section can be found by navigating to Movies -> Genres -> Classics -> Holiday Music, Movies, and More.
The new listings are almost certainly an error, with banners for Apple's new Holiday section [iTunes Store] being served to the wrong device.
Steve Jobs had noted soon after the introduction of the second-generation Apple TV in September 2010 that an App Store for the iOS-based device could launch when the time is right. Such an effort would, however, require Apple to work with developers on tools for creating apps for the device, and there has been no sign of an effort on that front.