Google to Take on Apple with Open AirPlay Alternative
GigaOM reports that Google wants to take on Apple with an open AirPlay alternative.
YouTube recently launched AirPlay-like video beaming for Google TV and Android devices, but Google plans to take the technology much further. The company is working on an alternative to AirPlay, which it wants to bring to third-party devices and services – a clear shot at Apple.
Google's new protocol would also supplant the existing DLNA standard which offers similar functionality.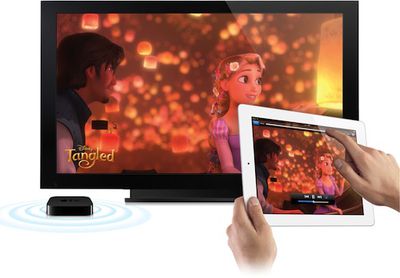 AirPlay
from Apple allows Mac and iOS devices to easily stream audio, video and screen content to your Apple TV.
Google's system would reportedly be similar, and also allow data to flow in both directions, allowing full "second-screen experiences" that could relay information back to your phone or tablet. Google recently launched the first version of the service aimed at Android devices, Google TV and YouTube. Their plans are to expand their technology to other apps.