Cellular-Capable iPad Mini Pre-Orders Arriving in U.S. as Early as Thursday, November 15
Yesterday, we noted that U.S. customers were beginning to report that their pre-orders of the cellular-capable fourth-generation iPad models were beginning to ship, with many seeing delivery dates of this Friday, November 16.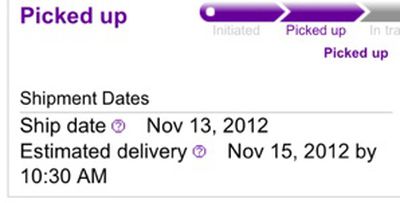 FedEx tracking showing iPad mini delivery for November 15
Beginning
just a few hours ago
, customers who pre-ordered cellular-capable iPad mini models also began seeing shipping notices. Customers seem to be reporting a range of delivery dates for this initial batch of devices, with the earliest ones set for this Thursday, November 15 but others not arriving until Friday or even the following Monday.
As we noted in our earlier reports, AT&T is also expected to begin offering LTE models of the iPad mini and fourth-generation iPad in its retail stores on Friday, with the carrier offering a $100 discount on any tablet for those who sign up for a two-year data plan agreement, including its $10/month Mobile Share tablet add-on package.