Apple's Fusion Drive: Faster Performance in a Simple Consumer-Focused Package
Over the past couple of weeks, we've taken a few looks at Apple's new Fusion Drive used in the latest Mac mini and the upcoming iMac. The Fusion Drive system uses software to seamlessly integrate a 128 GB solid-state drive (SSD) with a 1 TB or 3 TB traditional hard drive to offer users the best of both worlds when it comes to speed and capacity. System files and other frequently used data are automatically moved to the SSD for maximum speed, with lower-priority data being stored on the much larger traditional hard drive.
Macworld has now conducted some benchmarks on the various Late 2012 Mac mini models, including one equipped with Fusion Drive, demonstrating how much faster the system runs with the benefit of the SSD.
[I]t was the Fusion Drive that really kicked the BTO Mac mini into overdrive. The standard configuration $799 Mac mini with its 5400-rpm hard drive took more than three times as long to complete our copy file and uncompress file tests as the Fusion Drive did in the BTO Mac mini. The BTO Mac mini's PCMark productivity test score (using VMWare Fusion) was three times higher than the high-end standard configuration's score. [...]

The BTO Mac mini was actually faster than the Retina MacBook Pro in a few tests, like the iPhoto, iMovie, and Aperture import tests. But file copy and file uncompress tests were a bit faster on the Retina MacBook Pro with its "pure" flash storage than on the Mac mini's Fusion Drive.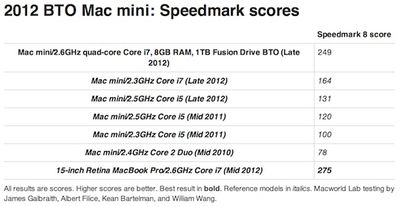 A new video posted by TechfastLunch&Dinner also shows how keeping the system files on the fast SSD cuts boot times in half for the Fusion Drive-equipped Mac mini compared to a similar system using only a traditional hard drive.
Ars Technica
has also posted a
thorough examination
of how the Fusion Drive works at a detailed level. The report notes that Fusion Drive is a solid consumer-focused tiering solution with some distinct differences from other caching and tiering implementations.
There are no options to configure, no pinning settings to adjust, and no user-visible method to decide what goes where. The FD volume is a single volume, and its Core Storage underpinnings direct all IO to the SSD first. New files are saved transparently to the SSD side of the Fusion Drive, as are new applications you install. Everything goes to the SSD first.

The logic behind this is clear: Fusion Drive is not meant to be a feature that appeals to the propeller-head geek. The kind of person who already has an SSD and a spinny disk in his Mac... and who symlinks his iTunes and iPhoto libraries off the HDD onto the SDD... and who enjoys meticulously balancing out which files go where will almost certainly not enjoy Fusion Drive's hands-off approach. Fusion Drive is not designed to be poked at or prodded. Rather, much in the same way that Time Machine's hands-off approach brought backup to people who otherwise wouldn't be bothering, Fusion Drive's hands-off approach brings tiering to Mac masses who otherwise can't be bothered. The presentation is very Apple-like, with no knobs to twiddle.
Ars Technica goes on to force chunks of data and whole files to be promoted up to the SSD, examines Boot Camp functionality on the Fusion Drive, and explores what happens should one of the drives fail.