Apple's New A6X iPad Chip Adopts PowerVR SGX 554MP4 Graphics
AnandTech reports on an examination of the A6X chip found in the fourth-generation iPad. The work, performed by Kishonti Informatics, reveals that Apple has adopted Imagination Technologies' quad-core PowerVR SGX 554MP4 graphics in the new chip.
The A6X retains the 128-bit wide memory interface of the A5X (and it keeps the memory controller interface adjacent to the GPU cores and not the CPU cores as is the case in the A5/A6). It also integrates two of Apple's new Swift cores running at up to 1.4GHz (a slight increase from the 1.3GHz cores in the iPhone 5's A6). The big news today is what happens on the GPU side. A quick look at the GLBenchmark results for the new iPad 4 tells us all we need to know. The A6X moves to a newer GPU core: the PowerVR SGX 554.
Unsurprisingly, the SGX 554MP4 represents a significant improvement over the quad-core SGX 543MP4 used in the A5X chip of the third-generation iPad and the triple-core SGX 543MP3 used in the A6 chip of the iPhone 5.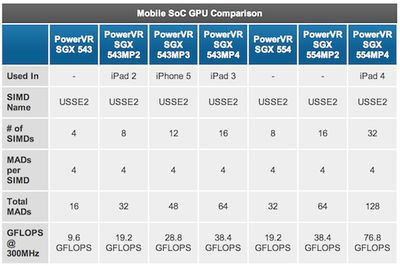 A full suite of graphics benchmarks reveals improvements of 15-100% compared to the third-generation iPad, with frame rates in the Egypt HD benchmark jumping from 25 frames per second (fps) on the third-generation iPad to nearly 52 fps on the fourth-generation iPad.
Ultimately it looks like the A6X is the SoC that the iPad needed to really deliver good gaming performance at its native resolution. I would not be surprised to see more game developers default to 2048 x 1536 on the new iPad rather than picking a lower resolution and enabling anti-aliasing. The bar has been set for this generation and we've seen what ARM's latest GPU can do, now the question is whether or not NVIDIA will finally be able to challenge Imagination Technologies when it releases Wayne/Tegra 4 next year.
The A6X is one of several enhancements to the fourth-generation iPad, including a new FaceTime HD camera and Apple's new Lightning connector, although the device appears nearly identical to its predecessor from the outside.