iPad Mini Confirmed to Carry Stereo Speakers
In something of a surprise, Friday's launch of the iPad mini will apparently mark the first time an iOS device carries stereo speakers. It appears that Apple's move to the smaller Lightning dock connector has left enough space for an additional speaker along the bottom edge of the device, although the company has elected not to make a similar addition to the fourth-generation iPad.
There has been speculation about the iPad mini's speaker setup ever since early case designs leaked showing two sets of small holes, one on each side of the Lightning port. Similar setups have been seen on iPhone models with one side housing a speaker and the other side a microphone for phone conversations. iPad models have, however, until now only contained a single off-center speaker grille.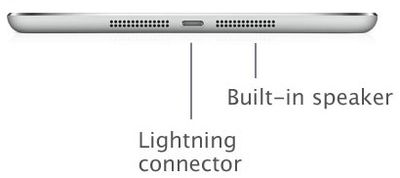 Diagram from Apple's iPad mini tech specs page
Apple did little to clear up the speculation at the iPad mini introduction last week, making no mention of stereo speakers and using the singular "speaker" on its
tech specs page
addressing the device's input/output capabilities. Amazon seized upon the assumption that the iPad mini did not contain stereo speakers, using it as part of a checklist comparison touting the Kindle Fire HD on its front page.


But when the first wave of advance reviews of the iPad mini were released last night, The Verge's Joshua Topolsky mentioned that the device does indeed contain stereo speakers. Topolsky later highlighted the feature in a Tweet, noting that it had been confirmed by Apple.

Dual speaker grilles on iPad mini (Source: The Verge)
Seeking further confirmation, a
9to5Mac
reader
emailed Apple marketing chief Phil Schiller
to ask about the situation, and Schiller responded to simply state "It is stereo." Notably, Amazon has since removed the comparison checklist between the Kindle Fire HD and the iPad mini from its main page.