iPhone Accounts for 77% of Smartphone Sales, 62% of All Postpaid Phone Sales at AT&T in 3Q 2012
AT&T today announced financial results for the third quarter of 2012, revealing that the carrier activated 4.7 million iPhones during the quarter, an increase of one million over the previous quarter as sales were buoyed by the iPhone 5 launch near the end of the period.
AT&T did not specifically break down iPhone 5 sales numbers, but did note that its overall postpaid sales numbers were impacted by "inventory constraints" on the device as Apple has struggled to keep up with demand.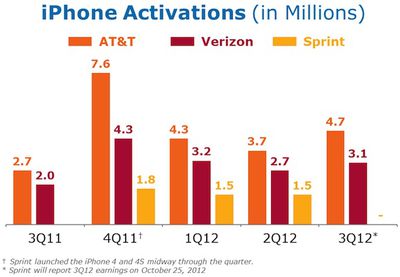 Notably, the 4.7 million iPhone activations represented roughly 77% of AT&T's total smartphone sales of 6.1 million during the quarter, showing that Apple continues to dominate AT&T's smartphone customer base. And with smartphones overall rising to account for 81% of AT&T's sales on a postpaid basis, the iPhone represented 62% of AT&T's sales of all phones (smartphones and feature phones) to those customers.
AT&T sold 6.1 million smartphones in the third quarter, 1.3 million more than in the third quarter a year ago. Smartphones represented 81 percent of postpaid device sales. At the end of the quarter, 63.8 percent, or 44.5 million, of AT&T's postpaid subscribers had smartphones, up from 52.6 percent, or 36.1 million, a year earlier and up 1.4 milion from the second quarter. [...]

In the quarter, the company activated 4.7 million iPhones, with 18 percent new to AT&T. The company also had its best-ever sales quarter for Android and Windows smartphones.
Verizon last week also announced healthy iPhone sales for the third quarter, although it too was impacted by supply constraints on the iPhone 5. Sprint will be the third and final major U.S. iPhone carrier to report earnings tomorrow morning, with Apple releasing its official numbers after the close of trading tomorrow.