Paid iBookstore Content Going Live in New Zealand and 17 Latin American Countries
Earlier today, a MacRumors reader noted that paid books had gone live in the iBookstore in New Zealand. While the titles are not yet accessible through the main Books section of the iTunes Store, searches for various others and titles are yielding a number of book results.
Blog do iPhone is also now reporting that paid books are going live in Brazil, and we've confirmed that paid titles are now available in 16 other Latin American countries as well.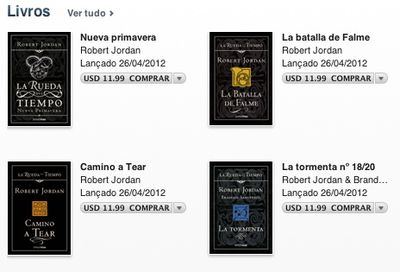 Paid iBookstore titles in Brazilian iTunes Store
The full list of new markets we've spotted so far includes Argentina, Bolivia, Brazil, Chile, Colombia, Costa Rica, Dominican Republic, Ecuador, El Salvador, Guatemala, Honduras, Mexico, New Zealand, Nicaragua, Panama, Paraguay, Peru, and Venezuela.
Evidence of new markets for paid iBookstore content comes amid rumors of an iBooks 3.0 launch alongside the "iPad mini" at tomorrow's media event. Apple is expected to make education one of the key themes of the introduction, and with the smaller iPad more closely competing with smaller tablets focused on reading, an expansion of iBookstore content seems to be a logical step.