Apple's 'iPad Mini' Media Event Reportedly Scheduled for October 23
AllThingsD reports that Apple appears to be planning to hold a media event on Tuesday, October 23 to introduce the "iPad mini", Apple's smaller tablet device said to be carrying a display measuring 7.85 inches diagonally.
As AllThingsD reported in August, Apple will hold a special event this month at which it will showcase a new, smaller iPad. People familiar with Apple's plans tell us that the company will unveil the so-called "iPad mini" on October 23 at an invitation-only event.

That's a Tuesday, not a Wednesday, so this is a bit of a break with recent tradition. It also happens to be just three days prior to the street date for Microsoft's new Surface tablet.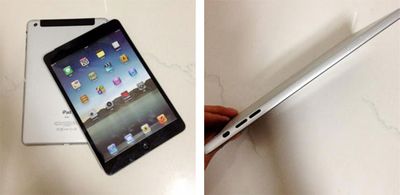 Physical mockup of rumored iPad mini design
The location of the event is unconfirmed, but the report suggests that it is likely to be held at the company's Town Hall auditorium at its corporate headquarters in Cupertino, California.
AllThingsD has an excellent track record regarding Apple media event rumors, giving this claim a high probability of proving true. Given past history, Apple would be expected to send out invitations early next week if the event is to be held on October 23.
Update: The Loop's Jim Dalrymple weighs in, confirming the date with a "Yep."