Apple Licenses Swiss Railway Clock Design for iPad's iOS 6 Clock App
Last month, we noted that the Swiss Federal Railways service was objecting to Apple's use of its iconic clock design for the new iPad clock app in iOS 6.
The Verge now points to a press release [Google translation] from the railway service announcing that a licensing agreement has been reached.
For the use of the SBB station clock on devices like iPad and iPhone, the Swiss Federal Railways SBB and Apple have agreed and signed a license agreement.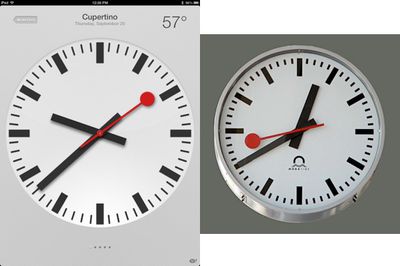 Apple's iPad clock app (left) and Swiss Federal Railways clock (right)
Terms of the licensing agreement, including payment and term length details, were not disclosed.