iPhone 5 Battery Life May Be Impacted Greatly by Cellular Signal Strength
Deep in its lengthy review of the iPhone 5, iLounge has performed an analysis on the battery life of the iPhone 5. The site tested the device under a number of conditions, including both cellular and Wi-Fi web browsing, voice calls, FaceTime calls, video recording, and video and audio playback.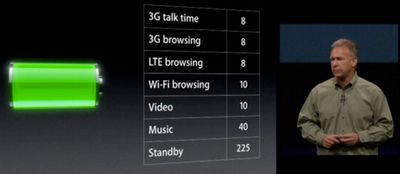 The phone performed fairly well but iLounge found battery life struggled when transferring cellular data or making voice calls, which they speculated was due to a weak signal:

if you're using your iPhone 5 in places a with a very strong (4- to 5-bar) LTE or 3G signal, your cellular battery life may approach that number, but if not, the cellular antenna will struggle to maintain a signal, and fall well short. Because LTE and 3G/4G towers are in a state of build-out flux right now, our tests suggest that many LTE users won't come close to Apple's promised numbers.


iLounge has the detailed results on its battery testing in its iPhone 5 review, but unsurprisingly, mileage will vary greatly depending on a number of factors including health of the battery, signal strength, screen brightness, and other considerations.