U.S. Carriers Unlikely to Support iPhone 5's Wideband Audio, European Support More Likely
One of the iPhone 5 features highlighted by Phil Schiller during yesterday's introduction was wideband audio, which offers "crisper word clarity and more natural sounding speech" according to Apple's press release. Schiller noted that the feature requires carrier support and that it would be supported by over 20 carriers on the iPhone 5 at launch, but did not specify which carriers those would be.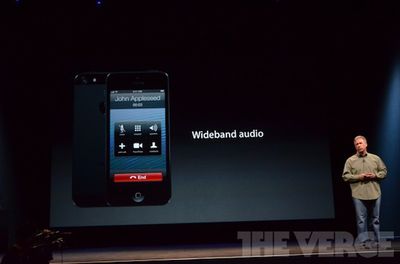 Phone Scoop reported late yesterday that Sprint has confirmed it will not support wideband audio (frequently marketed as "HD Voice") on the iPhone 5, and PCMag.com has a good overview of why none of the three major U.S. carriers are likely to support it.
There are three ways to do high-quality, or "wideband" voice calls.

One is to use a new codec, called AMR-WB, over a "3G GSM" (UMTS) network. That's what some European carriers are doing and what's in the iPhone. This is relatively easy to implement on the phone side, provided that the network supports it. In the U.S., only AT&T and T-Mobile would be eligible to do this, and they won't because they're focused on 4G (see below.)


The report goes on to discuss the other two mechanisms for providing HD Voice support, which include a CDMA-related codec being used by Sprint and voice-over-LTE technology being pursued by both AT&T and Verizon, but the iPhone 5 does not support either of those mechanisms.
The result is going to be extremely limited HD Voice experiences in the U.S. for at least a few years. It'll be restricted to calls between limited sets of phones, probably on the same carrier, and it won't be on the iPhone 5.
Beyond wideband audio, Schiller touted several other audio enhancements on the iPhone 5, including a total of three microphones for noise cancelation and accurate voice transcription, a smaller and improved speaker, and a noise-canceling earpiece.
(Images from The Verge)