We've been following the story of Sony's work to bring its Sound Forge audio recording and editing software to OS X for some time now, beginning with the initial teaser site that our investigation suggested was indeed a Sony project and continuing through to Sony's confirmation late last month.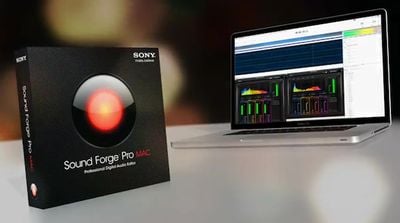 Sony has now officially announced Sound Forge Pro Mac, noting that it will launch this month at a price of $299.
"People who work on audio editing platforms recognize the need for a fresh option in the marketplace, one that's built for OS X as opposed to something that's simply been ported over. In addition, it's no secret that cross-platform professionals have been demanding Sound Forge for the Mac for years," said Dave Chaimson, vice president of global marketing for Sony Creative Software. "Our response is Sound Forge Pro Mac, a truly contemporary OS X design. Producers will appreciate its simple elegance, uncluttered look and amazing flexibility. The included suite of mastering and repair plug-ins makes this 1.0 edition a value-packed editing powerhouse right out of the box. Sound Forge Pro Mac is our second major OS X application release this year, and we're pleased to now be very actively engaged in application development for the Mac platform."
Sony's press release addresses a number of features of the new software, including focused editing with viewing panels and toggles for customizing tool sets and a number of mastering, processing, and repair/restore plug-ins to enhance the functionality of the software.
Sony Creative Software has yet to update its site with information on Sound Forge Pro Mac, but new pages should be going live shortly to share screenshots and other promotional materials.