'N42' iPhone 5 to Reportedly Launch at Same Pricing as iPhone 4S
9to5Mac reports that it has received information indicating that Apple will be launching six models of the iPhone 5, code named "N42", at next week's media event. The information indicates that Apple will be releasing black and white versions at the same three prices carried by the iPhone 4S: $199/$299/$399.
Here is the part codes matrix for the new iPhone launch from a source at a well-known U.S. retail chain: N42A-USA -$199, N42B-USA-$199, N42A-USA-$299, N42B-USA-$299, N42A-USA-$399, N42B-USA-$399. A + B signify black and white.

We also understand that this new iPhone N42 will come in the same prices as the iPhone 4S. With this, we speculate that the configurations will remain at the iPhone 4S's 16GB, 32GB, and 64GB capacities.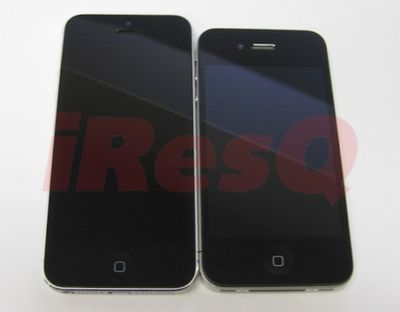 Comparison of iPhone 5 assembled from parts (left) to iPhone 4S (right)
A number of accessories are naturally expected to accompany the iPhone launch, and pre-orders for the new device will reportedly begin "soon after" the introduction,
if not on the day of
.