Closeup Photos Show Clear Difference in Thickness Between iPhone 5 and 4S
Parts and repair firm iResQ has been slowly building its own iPhone 5 as parts have been coming in, as shown in yesterday's photos revealing the battery installed into the rear shell alongside several other components such as the dock connector/headphone jack flex cable, external buttons flex cable, and the rear camera assembly.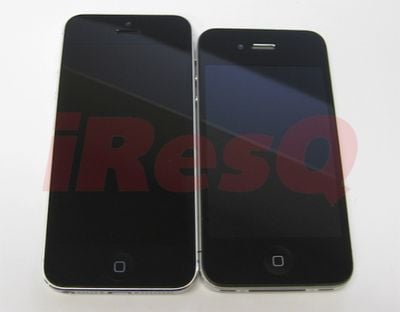 iResQ has now added a front panel to the mix, providing a good overall look at the iPhone 5 with several closeup photos. The assembly is of course non-functional, as it is missing the logic board and several other components, but nearly all of the externally-visible features are in place.


Perhaps most notable is one closeup side-on shot showing the iPhone 5 laying next to an iPhone 4S on a table. The photo shows that the iPhone 5 is indeed substantially thinner than the iPhone 4S, by approximately the thickness of either the front or rear glass of the iPhone 4S. Apple's move toward thinner body components and a thinner distribution of internal components enabled by the larger surface area due to the 4-inch screen of the iPhone 5 have allowed the company to substantially shrink the device's overall thickness. Previous reports have pegged the iPhone 5 thickness at 7.6 mm, 18% thinner than the iPhone 4S at 9.3 mm.


Apple is expected to introduce the iPhone 5 at its media event scheduled for next Wednesday, September 12.