Amazon Introduces 8.9-Inch and 7-Inch Kindle Fire HD at $299 and $199, Updated Kindle Fire Drops to $159
With Apple expected to introduce its "iPad mini" next month, observers are closely watching what other companies are doing in the smaller tablet space, and a media event today Amazon has shown its hand with a new line of Kindle products headlined by a new 8.9-inch Kindle Fire HD tablet with 1920x1200 display.
As noted by The Verge, the Android-based Kindle Fire HD includes stereo speakers with Dolby Digital Plus support, dual Wi-Fi antennas for better performance The Kindle Fire software has also been enhanced with new Whispersync technology for saving and syncing game and audiobook progress, as well as new parental controls, third-party apps such as Facebook and Skype, and an IMDB partnership for displaying cast and production info on movies as they're being shown.
The standard 8.9-inch Kindle Fire HD is priced at $299 with 16 GB, but Amazon is also offering a $499 Kindle Fire HD with 4G LTE model that bumps storage to 32 GB. The LTE model comes with a data package costing $49.99 per year that offers 250 MB per month of data, 20 GB of cloud storage, and a $10 Amazon Appstore credit. Both models ship on November 20. Amazon is also introducing a 7-inch 16 GB Kindle Fire HD for $199 that begins shipping on September 14, but details on differences from the 8.9-inch model such as screen resolution are not yet clear.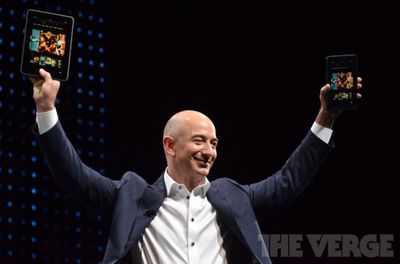 Amazon CEO Jeff Bezos introducing new Kindle Fire lineup
Amazon has also introduced an updated original Kindle Fire.
The Verge notes
that the 7-inch Android tablet has been updated with a new processor, more RAM, and increased battery life. The updates also come with a significant price drop to $159, down from the current $199. The new Kindle Fire begins shipping on September 14.
Finally, Amazon offered updates to its more traditional Kindle lineup, dropping the entry-level Kindle price to just $69 while introducing its new Kindle Paperwhite, as detailed by TechCrunch. The Kindle Paperwhite, which will be available October 1 at $119 for the standard model and $179 for the 3G model with free cellular access, includes frontlighting while still boasting an 8-week battery life.
Update 12:58 PM: Amazon's Kindle Fire HD press release clarifies that the resolution on the 7-inch model is 1280x800.