Following their appointments to Apple's senior executive team, Craig Federighi and Dan Riccio have each been granted 75,000 restricted stock units by Apple. The grants, which were revealed in filings with the U.S. Securities and Exchange Commission covering Federighi and Riccio, are worth roughly $50 million apiece at today's stock price, although they do not convert into actual shares for some time.
According to the vesting schedule, Federighi and Riccio will each see 25,000 of their restricted stock units convert into actual shares on December 23, 2013, with another 25,000 following on April 23, 2015 and the final batch of 25,000 converting August 23, 2016.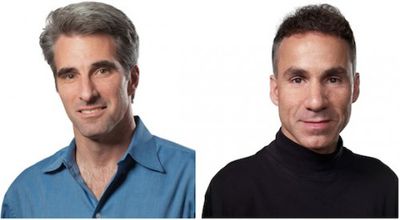 Including actual shares as well as previous restricted stock unit grants that are converting to shares over time, Federighi holds roughly $97 million worth of stock rights at Apple's present share price, while Riccio's holdings would be worth about $89 million.
Grants of restricted stock units are typically issued both as bonuses for previous work as well as incentives to remain with the company. With the units vesting over time, recipients are generally required to remain employed with the company through each vesting date in order for those units to convert into redeemable shares.