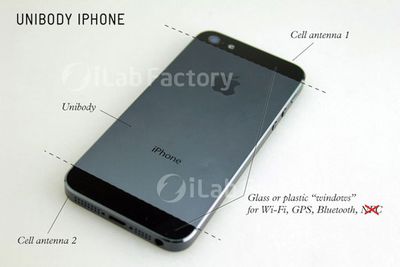 Diagram by
TheTechBlock / Don Lehman
, Photo by
iLab.cc
In case there was some continuing doubt,
iMore reports
that all the circulating iPhone part leaks are accurate and will be what the new iPhone will look like on September 12th:
iMore has learned that recent parts leaks and dummy phones are accurate representations of what the new iPhone (iPhone 5,1) will look like when Apple announces it on September 12, 2012. Almost identical in design to the iPhone 4 and iPhone 4S, the major visible differences will include a 4-inch display with a 16:9 aspect ratio, a metallic plate across most the back, and a miniaturized Dock connector and relocated 3.5mm headset jack along the bottom.
iMore cites "reliable" sources for the confirmation. The confirmation is notable in that iMore was the first to report on the September 12th announcement date for the new iPhone. That media event date was confirmed by Apple today.