Shortages of 27-Inch iMacs Hitting Apple Retail Stores
While several observers have noted shortages of Apple's current 27-inch iMac at resellers over the past several months, the tight supplies now appear to be increasingly affecting Apple's own retail stores. According to a survey of retail store stock availability through the "Personal Pickup" program at Apple's 249 U.S. locations, each of the two standard 27-inch iMac configurations is currently out of stock at approximately half of all Apple retail stores.
Under the Personal Pickup program, customers can place their orders online and pick up the items at their local Apple retail stores. Most stock Mac configurations and many accessories are generally available for immediate pickup, but for items that are not in stock at a particular location, the company will ship the ordered items to the store for pickup within about a week.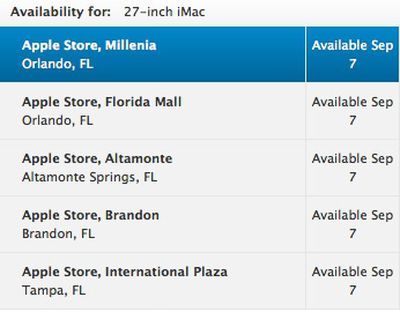 Our survey of Apple's retail stores shows that 120 out of the 249 U.S. locations are currently out of stock of the base 27-inch iMac model, with 135 locations being out of stock of the high-end configuration. Most of the stores are quoting a pickup date in the range of September 4-7, indicating that Apple will be able to deliver new orders for pickup fairly quickly, although some locations are quoting availability for as far out as September 11.
As with the shortages seen so far at resellers, Apple's shortages appear to be limited to the 27-inch models, with the 21.5-inch iMac continuing to be widely available at the company's retail stores. In our survey, we found only seven Apple retail store locations currently out of stock of the base 21.5-inch iMac model, all of which could offer pickup in the range of September 4-7.
Apple has been expected to release updated iMacs using Intel's latest Ivy Bridge processors at any time, with several reports having suggested that an October launch would be likely. One point of contention has been whether the new models will offer Retina displays, although the general consensus now seems to be that Apple will need to wait until next year for the higher-resolution displays to come to its desktop lineup.