New Perk Gives Apple Employees 50GB of iCloud Storage
Apple has introduced a new perk for Apple employees, giving them a free 50GB upgrade to their iCloud storage -- a $100/year value. This is similar to the free MobileMe subscription that employees received until last year when iCloud replaced that service. The standard iCloud account includes 5GB of storage.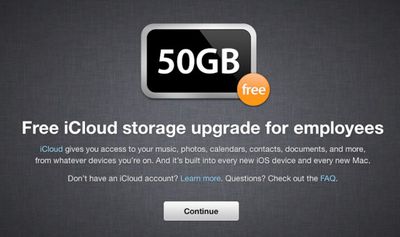 Earlier this year Apple employees were granted a new discount on Apple hardware, offering employees $500 off a Mac (excluding the Mac mini) or $250 off an iPad -- and that discount was recently extended to the Retina MacBook Pro as well.